Focus areas for the BEA Foundation include:
Workforce development and the future of work;
Expanding access to capital for Black businesses;
Wealth creation for black people and businesses;
Protecting safety net programs that enhance wages;
Ending explicit and unconscious discrimination, and increasing representation; and
Maximizing the benefits of opportunity zones in Black communities.
Policy Focus
Collaborating with research institutions, think tanks,  and policy experts focused on economic policies that  impact Black communities.
Convening partners regularly around timely policy  issues affecting the Black community.
Conduct focus groups on economic issues and Black population surveys.
Black economic data aggregation and analysis (e.g.,  Bureau of Labor Statistics, Census Bureau, U. S. Department  of Labor).
Machine learning/AI to derive correlations between  policy decisions and impact on Black economic health.
BEA Policy Research
Top Goals & Priorities for Black Workers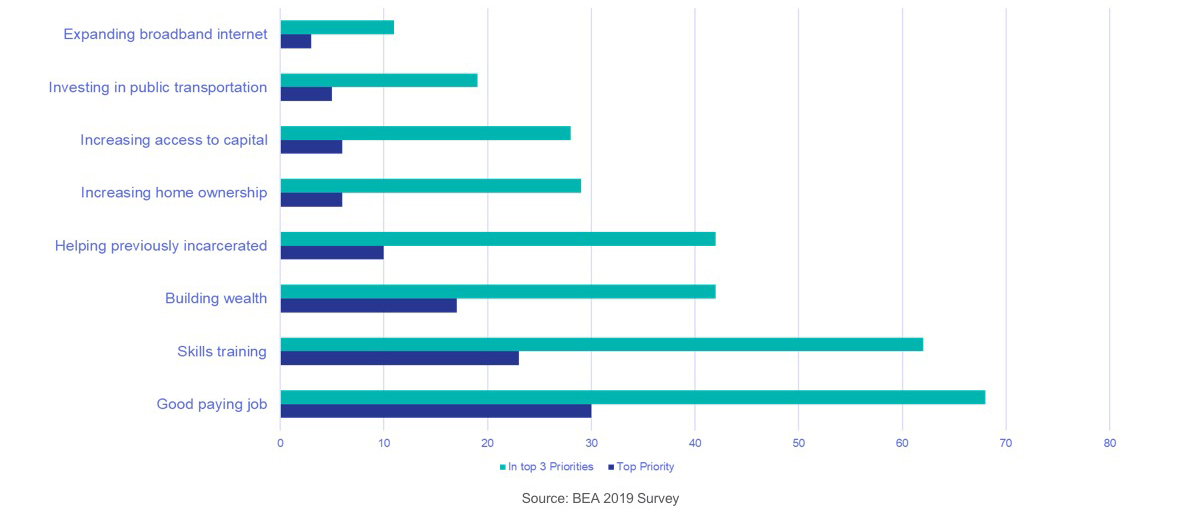 Two-day forum with multiple policy think tanks, challenging them to present African-American specific economic ideas
Sponsored policy research
Sponsored focus groups with grassroots Blacks in multiple geographies to understand what they would value
Sponsored surveys as to what policy issues would motivate Black voters to vote
Polls / Surveys Data