The grant will support the development of the Center for Black Entrepreneurship and help advance its mission to produce, train, and bolster the next generation of Black founders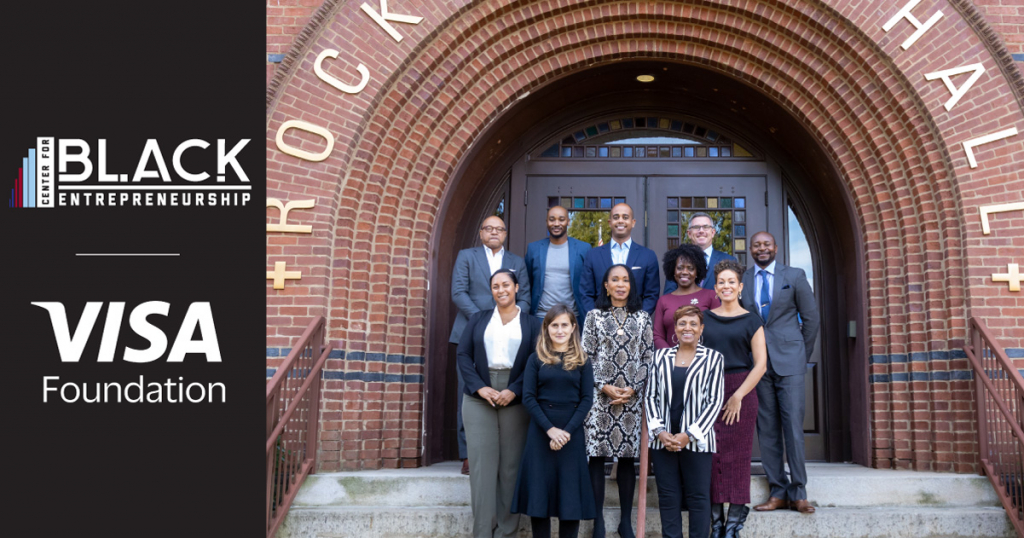 Visa executives, including Chief Diversity Officer Michelle Gethers and President of Visa Foundation Graham Macmillan, visited the CBE along with Morehouse and Spelman Presidents David A. Thomas and Helene Gayle as well as Black Economic Alliance representatives Samantha Tweedy and Vicki Palmer.

Media Contacts
Victoria Dellacava (BEA Foundation)
vdellacava@GlobalStrategyGroup.com
Brittany Jackson (Visa Foundation)
brittany.jackson@visa.com
Lydia Sermons (Spelman College)
Lydia.Sermons@Spelman.edu
Jasmine Gurley (Morehouse College)
Jasmine.Gurley@Morehouse.edu
WASHINGTON, D.C. – (November 17, 2022) – The Black Economic Alliance (BEA) Foundation – a national nonprofit organization working with private, public, and social sector leaders to advance work, wages, and wealth for Black Americans – announced a grant partnership today with Visa Foundation to support the development of the Center for Black Entrepreneurship (CBE) housed at Spelman and Morehouse Colleges. This $5 million commitment will support the CBE's mission to eliminate access barriers between Black entrepreneurs, professional investors, and business builders by leveraging education, mentorship, access to capital, and opportunity.
A collaboration among the BEA Foundation, Spelman College, and Morehouse College, the CBE aims to grow the pipeline of Black entrepreneurs and connect them to investment opportunities. Visa Foundation's commitment will support the development of an entrepreneurship program, which includes hiring faculty and building curricula for students at Spelman College and Morehouse College, as well as making online upskilling courses globally accessible.
"We are grateful to the Visa Foundation for their meaningful investment in the Center for Black Entrepreneurship," said Samantha Tweedy, President of the Black Economic Alliance Foundation. "Their support will help us expand the training the CBE is providing to the next generation of Black innovators and build an ecosystem that connects Black entrepreneurs to capital."
"To build the future generation of entrepreneurs and small business owners, investing early is best," said Michelle Gethers, Chief Diversity Officer and Head of Corporate Responsibility, Visa Inc.and Vice Chair of Visa Foundation's Board. "Visa Foundation is honored to support the Center for Black Entrepreneurship to uplift future generations of Black entrepreneurs who are attending college in Atlanta. This partnership helps ensure a more diverse and inclusive future for everyone, everywhere."
"We appreciate Visa Foundation's generous investment in the mission of the Center for Black Entrepreneurship," said Helene Gayle, MD, MPH, President of Spelman College. "The CBE will provide invaluable resources for our students interested in entrepreneurship by providing them with the opportunity to build the skills and networks necessary to thrive as future business leaders and founders. This is especially important since Black women are the fastest growing group of entrepreneurs."
"Morehouse College is proud to partner with incredible organizations like the Visa Foundation to bring the Center for Black Entrepreneurship to life," said David A. Thomas, Ph.D., President of Morehouse College. "Visa's generous grant will help us further the Center for Black Entrepreneurship's work of addressing the historic and systemic challenges Black entrepreneurs traditionally face in accessing capital and peer networks."
Through academic training, access to mentors, and exposure to the program's robust network of business leaders and investors, CBE students will be supported in navigating the structural challenges Black entrepreneurs traditionally face when setting out to launch and sustain a business. By increasing investment in Black-founded companies, the CBE will ultimately contribute to closing the investment gap.
In addition to Visa Foundation's $5 million grant, Visa Inc.'s Atlanta employees will be able to provide CBE with pro bono volunteering and other forms of in-kind support. This extension of CBE and Visa's partnership builds upon Visa's commitment to uplifting the Atlanta community by creating new opportunities for employee to support local entrepreneurs, attend stakeholder events, and strengthen the overall entrepreneurial ecosystem.
###
About the Black Economic Alliance Foundation
The Black Economic Alliance Foundation is the nation's leading organization harnessing the collective expertise and influence of Black business leaders and aligned advocates to build economic prosperity and generational wealth for the Black community. We partner with leaders across the public, private, and social sectors to champion policy reimagination, develop investment and philanthropic programs, commission research, and elevate national understanding of the inextricable link between the health of the Black economy and the entire American economy. The BEA Foundation is the 501(c)(3) non-profit affiliate of the Black Economic Alliance, a nonpartisan coalition of Black business leaders and allies committed to advancing work, wages, and wealth in the Black community. |foundation.blackeconomicalliance.org

About Morehouse College
Morehouse College is the only historically Black college dedicated to educating men. Founded in 1867, Morehouse is a private, liberal arts institution and the nation's top producer of Black men who go on to receive doctorates. The College is the top producer of Rhodes Scholars among HBCUs and was named to the list of U.S. institutions that produced the most Fulbright Scholars in 2019-2020. As the epicenter for thought leadership on civil rights, Morehouse is committed to helping the nation address the inequities caused by institutional racism, which has created social and economic disparities for people of African descent. Prominent Morehouse alumni include Martin Luther King Jr., Nobel Peace Prize Laureate; Dr. David Satcher, former U.S. Surgeon General; Shelton "Spike" Lee, Academy Award-winning American filmmaker; Maynard H. Jackson, the first African American mayor of Atlanta; Jeh Johnson, former U.S. Secretary of Homeland Security; Louis W. Sullivan, former U.S. Secretary of Health and Human Services; Bakari Sellers, attorney and CNN political analyst; Randall Woodfin, elected as the youngest mayor of Birmingham in 120 years; and U.S. Senator Raphael Warnock, Georgia's first Black U.S. Senator. For more information, visit https://morehouse.edu.

About Spelman College
Founded in 1881, Spelman College is a leading liberal arts college widely recognized as the global leader in the education of women of African descent. Located in Atlanta, the College's picturesque campus is home to 2,100 students. Spelman is the country's leading producer of Black women who complete Ph.D.s in science, technology, engineering and math (STEM). The College's status is confirmed by U.S. News & World Report, which ranked Spelman No. 54 among all liberal arts colleges, No. 19 for undergraduate teaching, No. 4 for social mobility among liberal arts colleges, and No. 1 for the 14th year among historically Black colleges and universities. The Wall Street Journal ranked the College No. 3, nationally, in terms of student satisfaction. Recent initiatives include a designation by the Department of Defense as a Center of Excellence for Minority Women in STEM, a Gender and Sexuality Studies Institute, the first endowed queer studies chair at an HBCU, and a program to increase the number of Black women Ph.D.s in economics. New majors have been added, including documentary filmmaking and photography, and partnerships have been established with MIT's Media Lab, the Broad Institute and the Army Research Lab for artificial intelligence and machine learning. Outstanding alumnae include Children's Defense Fund founder Marian Wright Edelman, Starbucks Group President and COO Rosalind Brewer, political leader Stacey Abrams, former Acting Surgeon General and Spelman's first alumna president Audrey Forbes Manley, actress and producer Latanya Richardson Jackson, global bioinformatics geneticist Janina Jeff and authors Pearl Cleage and Tayari Jones. For more information, visit www.spelman.edu.