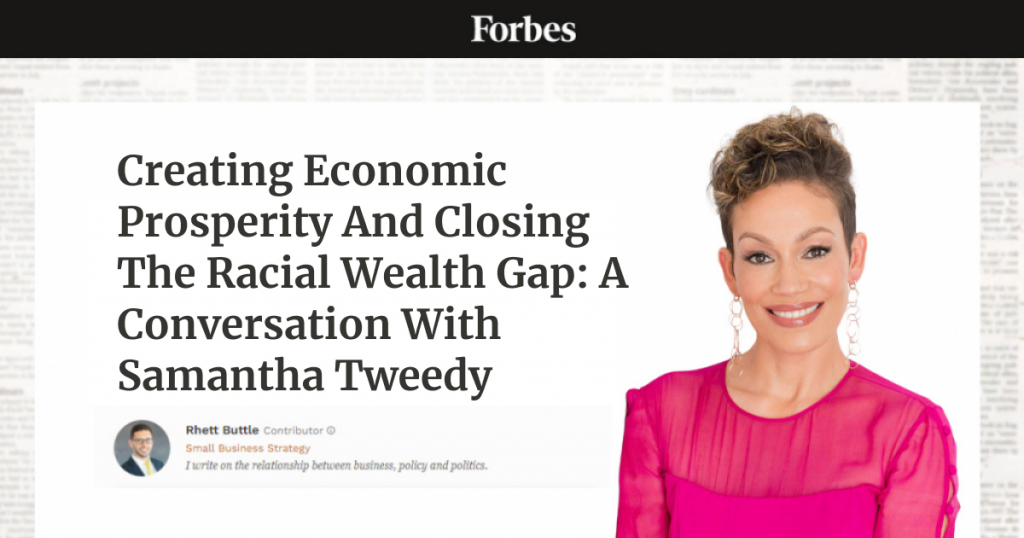 More organizations are ramping up their efforts to close the wealth gap for future generations after the Covid-19 pandemic and murder of George Floyd laid bare these longstanding inequities. Since it was founded in 2018, the Black Economic Alliance (BEA), a nonpartisan group of Black business leaders and advocates, has worked to expand the political and economic power of the Black community. Over the last three years, the group has mobilized business leaders to advocate for preserving voting rights and established programs to accelerate Black business ownership. BEA also helped identify candidates of color for economic positions in government.
In January 2023, BEA elevated Samantha Tweedy from her role as president of the BEA Foundation to her current role as chief executive officer of BEA. I interviewed Samantha last year when she was serving as president of the BEA Foundation and she told me that, "From entrepreneurship and business ownership to every area of our economy, it's time for systemic change across the public, private, and social sectors to create a new economic infrastructure that is truly inclusive and prioritizes Black wealth-building."
I recently had the opportunity to follow up with Samantha about her vision for BEA and upcoming summit bringing together leaders across the public, private, and social sectors. Below is our conversation.
Rhett Buttle: At the beginning of the year, you were appointed the inaugural Chief Executive Officer of the BEA. What are your priorities for the organization as CEO?
Samantha Tweedy: My priority is to ensure that expanding work, wages, and wealth for Black Americans is a focal point of decision-making from Washington to Wall Street. BEA is working to curate and build consensus around, and drive action on, the solutions most likely to expand Black economic prosperity and close the racial wealth gap, which, as research shows, would grow the entire American economy to the tune of $1.5 trillion.
This work of expanding Black economic power is exactly what the Black Economic Alliance – a coalition of leading Black business executives and aligned allies – was built to do, and why I am so thrilled to be the organization's inaugural CEO.
Rhett Buttle: What new initiatives and goals has BEA been working on for 2023?
Samantha Tweedy: Following years of political investment in competitive races across the country through our PAC and building strong partnerships in corporate America through our Foundation, BEA is uniquely positioned to unite a wide cross-section of stakeholders to advance solutions that improve Black economic outcomes in the U.S. Today, nearly 30 BEA PAC-endorsed policymakers committed to our work, wages, and wealth agenda are serving in elected offices across the country. And from BEA's extensive network, we have dozens of C-suite leaders in the philanthropic and corporate sectors committed to partnering with us.
With partners like McKinsey's Institute for Black Economic Mobility and Urban Institute, we are curating the data-driven, evidence-based policy and practice solutions most likely to move the needle on expanding work, wages, and wealth for the Black community. Those interventions cut across sectors and issue areas, just as these challenges do. We will soon release an Architecture for Action that will help leaders look at potential solutions through a different set of lenses, designed to specifically measure their long term gains for Black work, wages, and wealth. That's how we can re-imagine our economic infrastructure, from the real estate market to the education system, identifying and striking down structural inequalities that stand in the way of Black economic prosperity. And we'll leverage the extraordinary convening power of our networks, as exemplified in our upcoming inaugural BEA Solutions Summit, which will bring leaders together to build consensus around those solutions.
Rhett Buttle: What does BEA's work mean for entrepreneurs?
Samantha Tweedy: Business ownership is one of our nation's surest pathways to wealth generation. The notion that anyone can take an idea, work hard, and transform it into a successful business lies at the heart of the American Dream. Today, 17% of Black women, the fastest-growing demographic of entrepreneurs, are in the process of starting a business in spite of structural barriers that make it that much harder for Black Americans to reap the benefits of business ownership and entrepreneurship at scale. These obstacles are costly to all of us. We need to build systems and markets that facilitate Black entrepreneurship, which will benefit the Black community and the economy as a whole. BEA is addressing this issue with programming while researching and sharing solutions that can operate at scale. We launched the Center for Black Entrepreneurship (CBE) – a partnership with Spelman and Morehouse Colleges, powered by an anchor investment from Bank of America – to train a new class of Black entrepreneurs. And through our BEA Entrepreneurs Fund, anchored by Wells Fargo, we will offer $50 million in capital to businesses founded and led by Black entrepreneurs, which will lead to hiring more Black workers and additional investment in Black businesses and communities. Our goal is to help build a thriving ecosystem that provides Black entrepreneurs with the resources and support they need to succeed.
Our entrepreneurship initiatives serve as scaleable ideas for policymakers and the private sector alike – in fact, just last month we hosted Deputy Secretary of the U.S. Department of Treasury Wally Adeyemo and U.S. Small Business Administration (SBA) Administrator Isabella Casillas Guzman for a roundtable discussion centered on improving access to capital in historically underserved communities and the importance of supporting Black businesses and workforce development programs.
Rhett Buttle: BEA is hosting its first-ever Solutions Summit on March 21st. What can you tell us about this summit?
Samantha Tweedy: The inaugural BEA Solutions Summit is bringing together leaders across the public, private, and social sectors – such as Ambassador Susan Rice, Ariel Investments Founder and CEO John Rogers, Blavity CEO Morgan DeBuan, journalist Jonathan Capehart, and former Massachusetts Governor Deval Patrick – to highlight and build consensus on the leading solutions to advance Black economic prosperity and wealth-building. We'll hear from experts, policymakers, corporate leaders, and on-the-ground practitioners about what's working around the country, the major obstacles they are facing, and the role we each need to play to make meaningful change.
Our message to CEOs, policymakers, and philanthropists alike will be that we have to let go of the idea that we can usher Black Americans down the same path to economic prosperity taken by their white counterparts – and instead work to reshape the systems and markets of our economy so they advance, rather than hold back, Black economic prosperity. We look forward to working together with these leaders following the Summit to drive action and investment in the solutions with the greatest impact.
Rhett Buttle: BEA has been an anchor partner in the Business & Democracy Initiative. Tell us about this effort and why it's important to BEA?
Samantha Tweedy: The Business & Democracy Initiative (BDI) is necessary to BEA's mission for the simple reason that advancing Black prosperity requires having a strong economy, and a strong economy isn't possible without a strong democracy. As businesses continue to expand their influence on the American public, we see that they have an increasing responsibility to proactively preserve and protect our democracy – for example, by leveraging their unique influence to help preserve voting rights, as in the 2021 Stand for Democracy call to action that BEA helped to facilitate with over 500 companies and CEOs uniting to oppose state bills containing discriminatory voting measures. That effort was the largest-ever showing of corporate support for the protection of voting rights. Through BDI, we are engaging business leaders on their important role in ensuring the next generation of American prosperity that is so critical to our work, wages, and wealth agenda.
Rhett Buttle: Is there anything else you would like to add?
Samantha Tweedy: Since the Emancipation Proclamation more than 160 years ago, the portion of America's national wealth held by Black households has increased by less than two percentage points. In fact, the gap between Black and white homeownership rates remains wider today than it was under Jim Crow, and the typical white family has over eight times the wealth of the typical Black family. McKinsey estimates the cost of this racial wealth divide at up to $1.5 trillion per decade, and Citigroup puts the price tag of historical discrimination against Black Americans at a staggering $16 trillion overall.
For all of us committed to realizing the economic promise of America –– a fair shot at prosperity for everyone –– these facts underscore the urgency of our mission. The work ahead must begin with a fundamental re-envisioning of our economy, its infrastructure, and our collective role as leaders within it that centers the expansion of Black economic prosperity and wealth. Only then will we be able to make the progress that is so long overdue.
Rhett Buttle is the founder of Public Private Strategies and senior adviser to Small Business for America's Future.